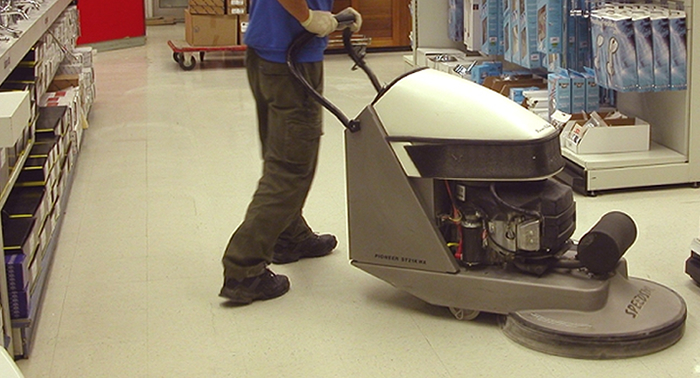 Seattle Industrial
&

Commercial Floor Cleaning
At Crest Cleaning Services, our Seattle Floor Cleaning service understands that industrial and commercial flooring can become dry and dusty without proper maintenance. After heavy traffic and use every day, those abrasive particles can wear patterns and scratches that only become worse. This can leave your organization looking much older than it really is and rather shoddy.
Our Commercial floor cleaning services include (but not limited to):
Industrial Floor Cleaning
Commercial Carpet Cleaning
Concrete Sealing
Concrete Scrubbing
Commercial Concrete Care
Vinyl Composite Tile (VTC) Wax Repairs
VTC Burnishing
Ceramic Tile Cleaning
VTC Scrubbing
VTC Waxing
Our flooring technicians will conduct a complete analysis of the problem whenever you are facing an industrial or commercial problem with your flooring. There is no flooring problem that we can't handle, regardless of size. Then, we will present you with a custom maintenance plan that also offers flexible scheduling. We promise to provide results that are not only highly focused on detail but are also affordable with our proven processes for any industrial or commercial flooring. This will leave you with flooring that will not only adequately portray the dedication of excellence by your company, but also great looking flooring.
At Crest Cleaning Services, our Seattle Commercial Floor Cleaning cleans all types of flooring in the Puget Sound area. We have numerous years of experience performing commercial floor cleaning services. We specialize in stripping and waxing for institutional, hospitality, retail, and industrial commercial offices and markets. We are a locally owned and operated company. Our goal is to deliver the best results possible and to treat every job we take with the highest respect.
We are known for our expert, high quality stripping and waxing services. We can provide a custom flooring maintenance program to meet or exceed any specific floor requirements. We believe that you need the right tools to clean flooring properly and to do the job right the first time. We only use high quality, nontoxic cleaning solutions that are absolutely safe for the environment. We can protect your flooring and make it shine again with our maintenance program that includes the most modern equipment. Our goal is to meet or exceed your expectations. In addition to stripping and waxing, we also provide buffing for scheduled flooring maintenance services.
Commercial businesses trust our expertise in cleaning flooring and know that when they are working with us they will receive the absolute best customer and fully integrated flooring solutions. These commercial businesses have special requirement and needs for their unique commercial flooring applications. We understand that it is crucial to be flexible with scheduling our customers for our floor cleaning services.
Crest Seattle Industrial & Commercial Floor Cleaning Experts
At Crest Cleaning Services, our Seattle Commercial Floor Cleaning service understands that commercial business customers want to walk into your place of business in the morning and see clean, shiny flooring. It the flooring is dusty ad dirty, that potential customer may get turned off by the condition of the flooring alone. Usually, the manager is responsible for getting the flooring clean. This means that the manager is spending time having the flooring cleaned when that manager should be spending time running of your business. In the long range, this would be more advantageous to your business.
At Crest Cleaning Services, our Seattle Commercial Floor Cleaning service can help. In order to that precious time required to focus on running your business, a commercial floor cleaning company is precisely what is needed. Your manager will no longer have to spend time making sure that your commercial flooring is being cleaned properly and can spend time being focused on running your commercial business.
When our customers first contact us to be their commercial floor cleaning company, we will work with them and help them work out a schedule that will be beneficial to them in the long run and that we can stick to. We won't cause any disruption for your own working day because we will work out in advance when we can complete our work. In addition, we will also discuss the frequency of floor cleaning that we would suggest for each kind of flooring surfaces that our customer currently has.
Sooner rather than later, you will determine that we can provide services that will help you to run your business more effectively and smoothly. The reason for this is that you will no longer have to worry about having your flooring cleaned and will have more time to focus of running your business. Please contact us if you have any questions. We will be more than happy to answer any question that you may have. First impressions are lasting and we want your potential customers' first impression to be that of bright, shiny, and clean flooring. At Crest Cleaning Services, our Seattle Commercial Floor Cleaning service is available and willing to serve you, our customer.