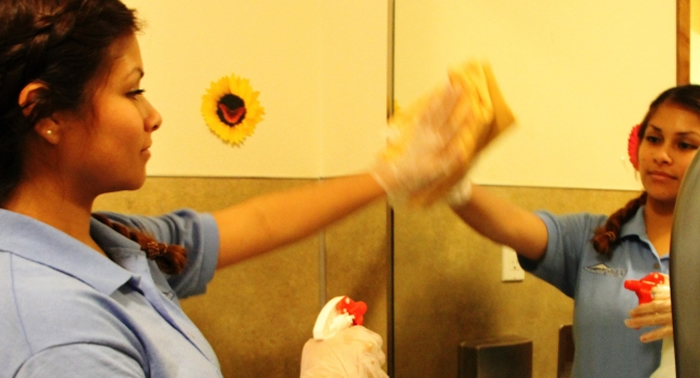 Seattle Apartment Cleaning
Crest Cleaning Services provides apartment cleaning in Seattle, WA. Nothing could be easier than having our uniformed apartment cleaning experts arrive at our customers' apartment with all of the cleaning equipment and supplies. Our customers come home to a sparkling apartment after we have done their apartment cleaning. Our customers are tired of wasting their time polishing furniture, scouring countertops, and scrubbing floors when they could be doing something much more enjoyable or simply relaxing. That is when they contact us to do their apartment cleaning in Seattle for them.
We have numerous years in the cleaning business. We can take care of our customers' entire apartment cleaning chores while they enjoy their friends, significant other, or family or simply to relax. We are a trusted provider of committed cleaning professionals. We provide healthy apartments in the greater Seattle area. Our customers depend on us, regardless if they need daily, regular, or a onetime general apartment cleaning.
Crest Cleaning Services offers apartment cleaning in Seattle, WA that is tailored to our customers' particular lifestyle. That means that our customers can arrange for our services on a biweekly, monthly, on a onetime basis or they can trust in our apartment cleaning solutions for weekly, regular apartment cleaning.
We understand that different apartments need different levels of care. That is the reason that we welcome any suggestions that our customers might have to offer to make sure that they receive what they require from the leading apartment cleaners in the entire Seattle area.
We will do some extra jobs to make sure that our customers' apartment is well maintained and clean. We also offer specific and specialized cleaning services including furniture treatment, cabinet cleaning, wall washing, unpacking and packing, refrigerator cleaning, and oven cleaning.
Our customers hire us because they don't have the time to regularly clean their own apartments. Our professional cleaners know some of the best methods to remove stains in addition to the routine dusting, and vacuuming. Removing these stains will keep our customers' carpet and furniture might extend their lives for many years but will certainly keep them looking their best.
We are committed to providing our customers with affordable prices for high quality cleaning services. The apartment cleaning will be done to perfection and our apartment cleaning staff is reliable, trustworthy, and friendly. Therefore, our customers receive the best apartment cleaning service in the entire Seattle, WA area. Without the need to clean their apartment anymore, our customer will have more time to enjoy their family and friends.
Crest Seattle Apartment Cleaning Experts
We can handle the most difficult cleaning and leave our customers' apartment sparkling clean. We treat all of our customers' homes special care. Our experienced and dependable cleaning staff will provide our customers' apartments with the special attention that it deserves. We are equipped to handle all of your cleaning needs from top to bottom. Our staff will completely clean our customers' kitchens, bedrooms, dining rooms, and living rooms. We will remove stains from the carpets, strip and wax the floors, wash windows outside and inside, and deodorize, disinfect, and sanitize the bathrooms.
We strive to provide all of our customers with solutions for their entire cleaning needs with the utmost respect. We take great pride in our quality of work and are committed to providing 100% customer satisfaction. Our trained cleaning staff will prepare our customers' apartment so that it's clean and ready for them. We provide professional cleaning services in a reliable, honest, and friendly manner and will stand behind our performance. We strive to make sure that our customers are 100% satisfied with our cleaning work.
Our standard cleaning services include dusting baseboards, shelves, woodwork, furniture, lamps, picture frames, blinds, doors, windowsills, under beds, dressers, night stands, and mirrors. We will vacuum carpets and wash floors throughout the apartment. In the bathrooms we will clean and empty ashtrays and wastebaskets. We will deodorize, disinfect, and clean toilets, sinks, interior of cabinets, mirrors, bathtubs, vanities, and showers as well as polish chrome, scrub and wash tile walls and floors. We will clean electronic equipment and appliances, scrub and sanitize back splashes, sinks, and counters.
We offer many different cleaning service schedules including monthly, biweekly, weekly, and daily cleaning. We work with our customers to choose a cleaning schedule that works for them and their family.
Our cleaning services prices are based on the length of time it takes to clean the apartment and the size of the apartment. Please contact us for a free, no obligation estimate.
Crest Cleaning Services offers apartment cleaning in Seattle, WA and understands how to manage the unique requirements of our customers. We also know that each customer has different living and housing arrangements. We will do whatever necessary to accommodate all of our customers' unique situations. We are dedicated to 100% customer satisfaction.